Best of East Africa Safari Holiday
Safari Overview
This tour safari showcases East Africa at its finest. The destinations ignite the imagination. You'll be immersed in the great spectacles of the Tanzania Parks, Maasai Mara, and the Great Migration (depending on the month of travel). Then there is the incredible diversity of the lesser-known parks like Tarangire and Lake Manyara. This itinerary is about indulging in an unforgettable safari experience,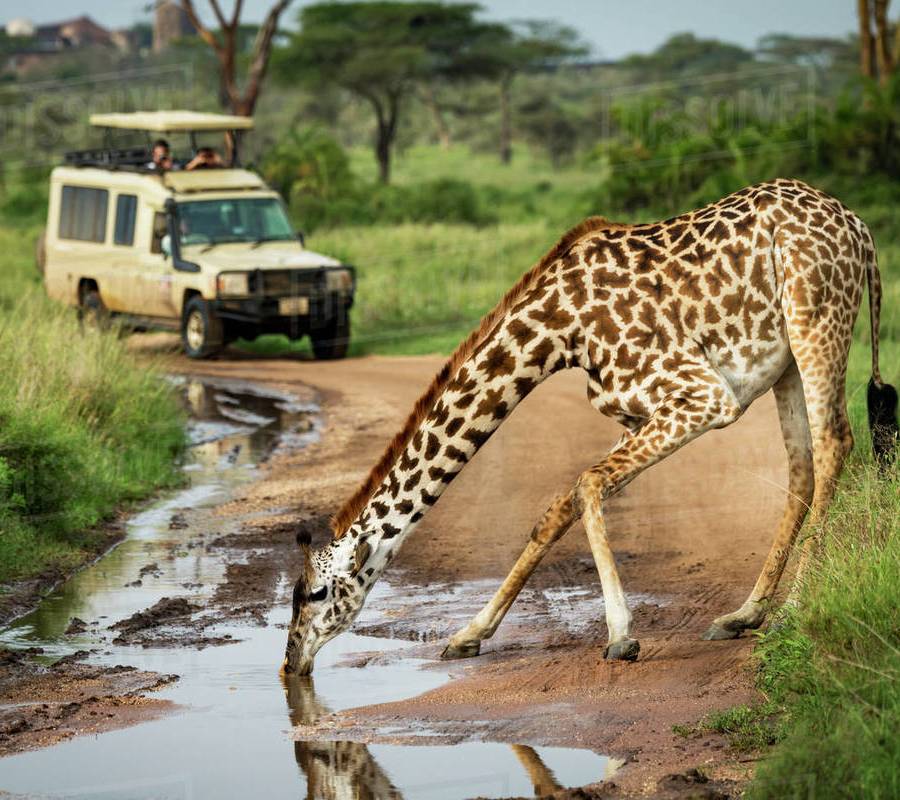 Masai Mara Experience
Mt. Kenya, Africa's second highest peak is regarded as the realm of Ngai, god of the local Kikuyu people. Traditionally, all Kikuyu home were built to face this sacred peak.
Shared tour: On this shared tour, you will join a group of other travelers. Max 7 people per vehicle.
Can start any day: If availability permits, this tour can start on any day.
Can be customized: The accommodations and destinations of this tour can be changed.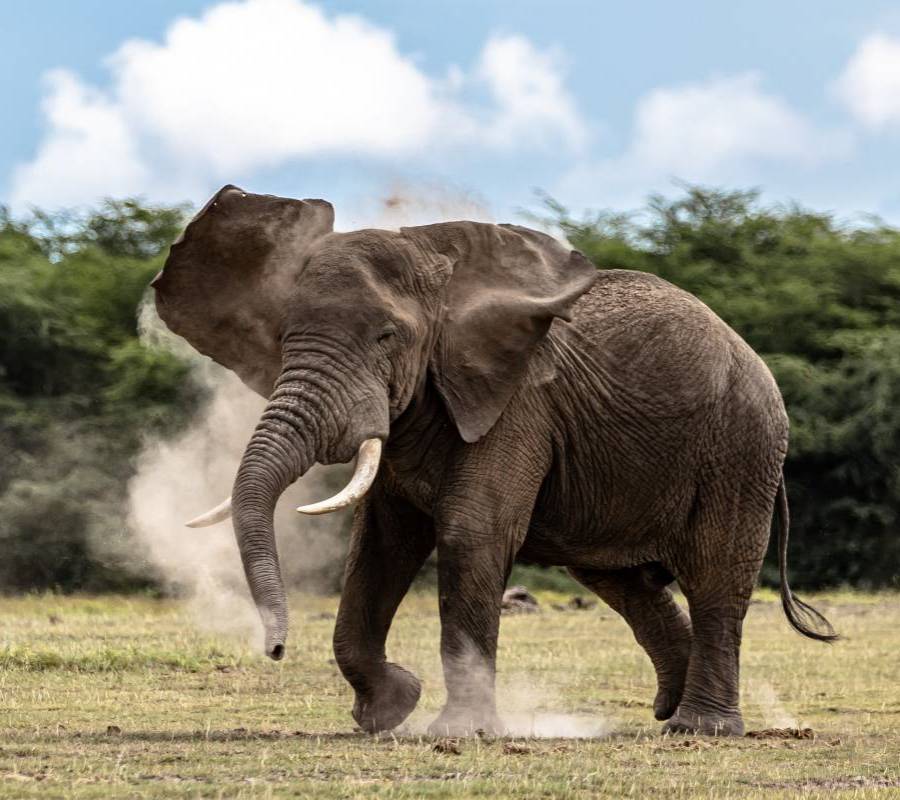 Itinerary
Day 1: Nairobi – Samburu game reserve
Pick up from your hotel at 0730 hrs. and depart for the dramatic semi-arid scrub land of the Northern Frontier. Arrival in Samburu will be by lunch time. After lunch embark on a game drive to sight resident wildlife species like the Reticulated Giraffe, Grevy's Zebra, Beisa Oryx and the Blue-necked Somali Ostrich that are rare elsewhere in the country. Dinner and overnight will be at the spectacular Samburu Serena Lodge or samburu lodge (Meal Plan – Breakfast, Lunch and Dinner).
Day 2: Samburu Game Reserve
Full Day spent exploring the park. Dinner and overnight stay at Samburu Serena Lodge or Samburu lodge ( Meal Plan – Breakfast, Lunch and Dinner) The highlights of Samburu game reserve is the spectacular scenic beauty, rivers and forests. It is an area where the local people have a rich and colorful heritage. The reserves have numerous permanent springs and a wealth of wildlife which includes leopard, hippo, elephant, lion, reticulated giraffe, Grevy's zebra and crocodile in the Ewaso Nyiro River. Over 365 species of birds have been identified in the sanctuaries.
Day 3: Samburu – Lake Nakuru National park
After breakfast departs for Lake Nakuru. Arrival will be in time for lunch at your lodge, located inside the Lake Nakuru National Park. In the afternoon you will embark on a game drive where you will have the opportunity to spot leopards, rhino and the famous pink flamingos as well as a variety of other wildlife. Dinner and overnight at Lake Nakuru Lodge .(Meal Plan – Breakfast, Lunch and Dinner) Lake Nakuru's claim to fame is anchored on its flamingo's and the over 400 species of birds found here. The lake itself is a soda lake on the floor of the rift valley. The sight of the at times millions of flamingos is quite spectacular. From a distance the lake appears ringed in pink. The Lake has also earned a reputation as an important haven for endangered species- particularly the Rothschild Giraffe and the black and white rhino. Lions, waterbuck.
Day 4: Lake Nakuru- Maasai Mara
After breakfast departs for Maasai Mara – the land of vast migrating animals. Arrival will be in time for lunch. After lunch embark on a game drive. Dinner and overnight at Mara Sopa Lodge / Keekorok Lodge. (Meal Plan – Breakfast, Lunch and Dinner).
Day 5/6: Maasai Mara Game Reserve
Full day spent exploring the park in search of the Big 5. Dinner and overnight at a lodge (Meal Plan – Breakfast, Lunch and Dinner) The Maasai Mara Game Reserve is arguably Kenya's most popular game sanctuary. It is the most famous and most visited game reserve in Kenya. The film 'Out of Africa' was made to a great extent in this reserve. Virtually every type of wildlife can be seen at the Mara. A spectacle worth seeing is the annual migration of millions of wildebeest, zebra and gazelle from Serengeti plains across the Tanzania border and the Mara River to reach Maasai Mara grazing fields from late June. The dramatic crossing of the river and the preying on the migrants by predators can be viewed from early July to August. The reserve abounds with birdlife since dose to about 452 species have been recorded. Hot air balloon safaris are readily available in this park
Day 7: Serengeti National park
We leave the lodge soon after breakfast and drive through the southern part of the reserve viewing game as we proceed to the Tanzanian border at Isebania / Sirari. Proceed to Serengeti national park – game is viewed as we proceed to Serengeti Savanna Tented Lodge for dinner and overnight stay.
Day 8: Serengeti National park
Nairobi Breakfast at the hotel Join your Safari Driver Guide and depart to Nairobi either to the airport or as per arranged. Timings depend on the time of the flights. Timings indicated are meant to act as guidelines. Departure time may change especially for game drives as it depends on where the game is located.
Your driver guides in case of game drives and, airport representative in case of airport transfers, times will advise you as you go along.
Day 9: Ngorongoro via Olduvai Gorge
Morning game drives then return to the lodge for breakfast – proceed e south to the magnificent Ngorongoro crater via the historical Olduvai Gorge whilst game watching only interrupted by a picnic lunch enroute. Dinner and overnight stay at Ngorongoro Sopa Lodge.The Olduvai Gorge cuts through rock beds layered in time sequence from 2 million years ago to the present. It is here where humanoid bones have been found dating back to over 1.75 million years including a direct ancestor of modern man. Fossil footprints (over three million years old) have also been found here and are the most ancient footprints yet discovered. There is an excellent site museum where you can explore the diggings
Day 10: Ngorongoro Crater Tour
Descend in to the crater for a days crater tour with packed lunches. Dinner and overnight stay at Ngorongoro Sopa Lodge The Ngorongoro crater is the world's biggest whole volcanic caldera at 8300 sq km and is arguably the most stunning arena. It is frequently described as one of the wonders of the world, not only because of its geological magnificence, but also because it serves as an extraordinary natural sanctuary for some of Africa's largest populations of large mammals. Ngorongoro and other freestanding mountains are volcanic in origin, formed during the fracturing process that created the Rift valley 15 to 20 million years ago. When it peaked in size 3 million years ago it was a similar height to Mt. Kilimanjaro today.
Day 11: Ngorongoro- Tarangire National Park
After breakfast drive to Tarangire. Afternoon game drive, meals and overnight at Tarangire Safari Lodge or Roika Tented camp Tarangire National Park, one of the hidden jewels of Tanzania. This park measures 2,600 sq km's and boasts a concentration of wildlife second only to Ngorongoro Crater. It features an impressive amount and array of bird life and plant life. Situated only 160km's from Arusha, the park is nestled to the south of the large open grass plains of southern Maasai land. It is named after the Tarangire River, which runs directly through the center of the park and is the only permanent water source for the animals. Along the banks of this river you will find herds of wildebeest (or gnu) and zebra, followed by Grant's gazelle, Thomson's gazelle and many others. Lurking in the background lion and leopard keep a watchful eye on a possible meal. The park offers views of grass and floodplains with impressive baobab and flat topped acacia trees scattered throughout. During the dry season the park may look quite ordinary, but activities continue even more earnestly due to the now increased competition.
Day 12: Tarangire – Amboseli National Park
After breakfast drive to Amboseli via Namanga on the Kenya and Tanzania border for lunch, After continue driving to Amboseli National park with game drive en-route seeing wildlife with mount Kilimanjaro at the backdrop until late afternoon to return to the camp for dinner and overnight at Amboseli Sopa Lodge
Day 13: Amboseli – Nairobi – Kampala
Breakfast at Leisure then drive to Nairobi for Lunch then drop off at the airport to board a flight to Entebbe – on arrival you will be transferred to Cassia Lodge for dinner and overnight stay
Day 14: Amboseli – Nairobi – Kampala
Breakfast at Leisure then drive to Nairobi for Lunch then drop off at the airport to board a flight to Entebbe – on arrival you will be transferred to Cassia Lodge for dinner and overnight stay
Day 15: Amboseli – Nairobi – Kampala
Morning will set off from Kampala to Bwindi Impenetrable National Park the home of Mountain Gorillas. It is estimated half of the world's surviving population of mountain gorillas –300 and more live within Bwindi boundaries. The drive is long but enjoyable with lunch stop on the way. Bwindi National Park is located in the southwestern part of the country –the Kigezi Highlands once known as Switzerland of Africa. Bwindi National Park offers a dramatic steeply forested landscape and is incredibly dense, but crisscrossed by numerous animal trails allowing access to tourists. The 4 families have been habituated for tourism and each is visited by 8 people per day. Although trekking may be strenuous the viewing of the gorillas in their natural habitat is an experience long to be savored.. Apart from the gorillas, there are a variety of primates to be seen including the blue monkeys, red tailed monkeys, and black & white Columbus monkeys. The great blue tauracos are often seen and even for a non bird watcher they are marvelous sight. Arrival will be in the evening and you will then settle in at the Gorilla Forest Camp or Gorilla Resort for dinner and overnight stay
Day 16: Gorilla tracking
After breakfast you will be escorted to the park offices to begin your adventure. A briefing from your local guide and then its off! The time taken and the terrain varies (1- 8 hour) according to the movement of these gentle giants. The thrill of meeting face to face takes away the pain of sometimes long and arduous trek. Return to your lodge for overnight stay.
Day 17: Amboseli – Nairobi – Kampala
After early breakfast head for Ishasha, which is the southern sector of Queen Elizabeth National Park, carry out a game drive where you may sight tree-climbing lions. Ishasha is dominated by acacia woodland and scrubland and features the meandering Ishasha River, banked by a riparian forest. After picnic lunch drive all the way to the northern sector of the park and check in at Mweya Safari Lodge or Jacana Safari Lodge for dinner and overnight.
Day 18: Queen Elizabeth National Park Early
Morning game drive to see more animals that habit this park, that include predators lion. leopard and other game. Over 500 bird species have been identified here, making it a Mecca for bird-watchers. They include the black bee–eater, 11 different species of kingfisher and several falcons, eagles and other raptors. Queen Elizabeth National is one of the most outstanding treasures of Uganda, and has been designated
What's Included
All meals on safari
Accommodation throughout your safari
Unlimited supply of bottle water in safari vehicle
All transfers as indicated in the itinerary
All government taxes included
Services of an English-speaking driver/guide
Guaranteed window seat throughout safari
All national park fees, conservancy fees and hotel taxes